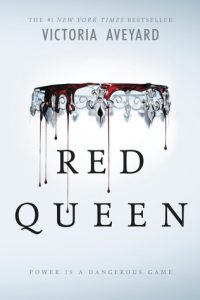 This amazing novel is about the 18-year-old Mare Barrow. She lives in a society that is split by the colour of your blood. Red and silver. Reds are doomed to serve a life of oppression, death and misery. Silvers are born to rule over the ones that do not have abilities like themselves.
Mare has grown up like any other Red would. Poor, surrounded by death and without any perspectives, a life without choices. Every Red is conscripted for war at the age of 28 to die for Silver power demonstrations. This war has lasted for a very long time and given the circumstances, it won't end soon. Just the ones that have an important job are kept from the front.
A mysterious coincidence gives Mare the chance of a job. To work as a servant for the man she hates the most- the king. Willingly she takes the offer and in the palace, she finds out, that there's something about her beyond Silver abilities. She's something more. She is not Re, not Silver. Her power is a threat to the Silver reign. And the Silvers take care of it. Nobody is stronger that Silvers. So, Mare finds herself, dressed up in the finest fabrics in the middle of a dangerous game- Mare must act like a Silver. She must leave her family and the one she loves and one wrong step my put more lives at risk that just her own.
I was stunned by this masterpiece. It's as if all my favourite books were blended into one fantastic story. It makes you hold your breath and it's impossible to avert your eyes from that suspense packed plot.
It was interesting to see how a person changes according to the circumstances. To see how easy, it is to put a person into a box. "Red Queen "is a clever fantasy story, that also deals with problems of our real daily lives, which makes it very easy to identify with the main characters.
I loved the protagonist. Her character hast just so many different sides. She is strong-willed, passionate and willing to stand up for her dreams.
"Red Queen "has to be top priority on your reading list! It's a fascinating plot with unique characters. Just breath taking!