Unfortunately the video has disappeared because PRESENT.ME stopped their service.
The Weed that Stings the Hangman's Bag
The bestselling author, Alan Bradley, has written this and the other five ,,Flavia de Luce Mysteries" with British humor. If you like mysterious and exciting detective books, then this book is exactly the right thing for you. This book is the greatest of all! I recommend it to people that are 14+.
We give the book 5 from 5 stars: *****
The book is about eleven-year-old Flavia de Luce. From the outside she looks small, breakable and weak. But she is actually very strong, disciplined and self-reliant. She lives in the idyllic but gloomy village Bishop's Lacey in the year 1950. Her mother, Harriet, died in an accident many years ago. Her two sisters, Ophelia and Daphne, are the two meanest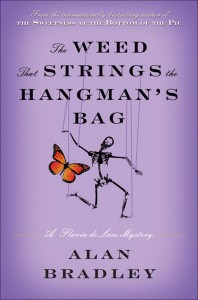 girls in the world. This makes Flavia's life hard. To escape from daily life she always flees into the old chemistry lab in her house, because chemistry is her passion.
Thirty years ago a boy, called Robin Ingleby lived in the same village. He was  the same age as Flavia. One day he went to play in the forest but didn't come back. His mother went into the woods and looked anxiously for him. But finally she found him…..hanged….. Everyone in Bishop's Lacey thinks that it was suicide, but Flavia didn't believe this version. Why would he have killed himself???
In the book a puppeteer, called Rupert Porson and his assistant Nialla come to Bishop's Lacey to perform a show. Rupert Porson is one of the most brilliant and famous puppeteers in the world. At his show the people recognize one of the puppets as the boy, Robin. Everyone is shocked. All of a sudden Rupert dies at the show. Bishop's Lacey's citizens think that it was an accident. But again, Flavia is of another opinion. She thinks that the two deaths are somehow related. But how?
Is Flavia right?
Read it yourself!
By: Anna Lackner & Kalkidan Wube